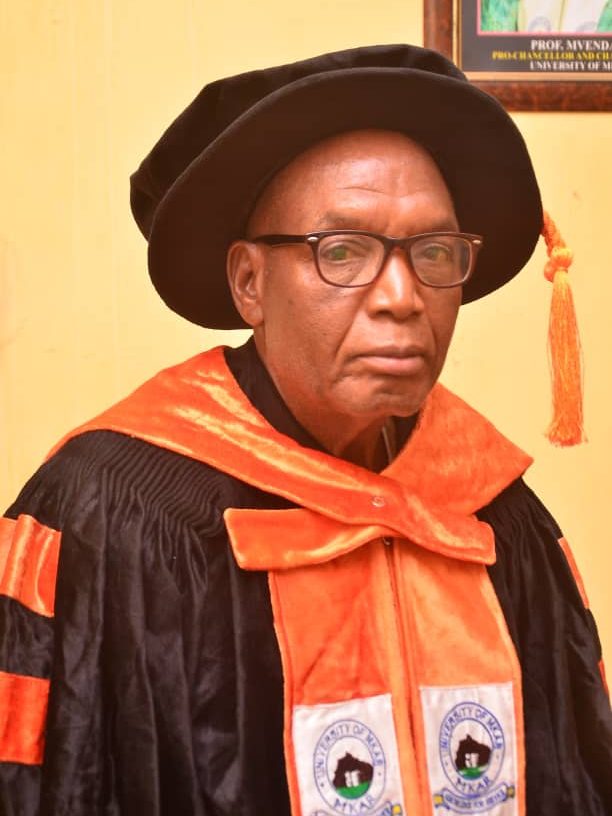 On behalf of all staff in the Department of Biological Sciences, University of Mkar, Mkar. I welcome all students to this Department. University of Mkar is not just a University; It is a University with a great Difference. In this University, God is the center point of our learning and indeed every other activity. We see everything that happens on the campus through Gods perspective. This indeed is the very reason for the establishment of the University of Mkar, Mkar. We are happy to receive you, for there cannot be a University without students. Also, you must remember that time flies, but cannot be caught; therefore, keep your reasons for being here on campus (Learning) in focus at all times. Remember the old adage that says "Manner maketh  Man", you must realize that discipline and good conduct are the necessary ingredients for achievement of one's goal. I urge you to be responsible and avoid the common campus ills. In this University, you are educated in character, moral and holistic manner to be a future leader. The mission of the University is to raise up young men and women that are God fearing, properly focused, morally upright, intellectually sound and spiritually alive. I wish you a successful stay in the Department.
ADMISSION REQIUREMENTS
Candidates seeking admission into 100 Level or 200 level of a four (4) year degree programme in the Department must pass through the following:
UNIVERSITY TERTIARY MATRICULATION EXAMINATION (UTME)
The appropriate UniversityTertiary Matriculation Examinations (UME) scores must meet the cut-off point.
Five (5) credit level passes in Biology, Mathematics and Chemistry at School Certificate/GCE 'O' level or SSCE/WASC/NECO including English Language and one other subject that may be required by the College of Science and Education. The credits must be obtained at not more than two sittings.
JOINT UNIVERSITIES PROGRAMME EXAMINATION BOARD (JUPEB) Ordinary level result as stated in (i) above with required points in JUPEB will grant such candidates admission into 200 level. Students must register and pass all 100 level GST courses before graduation.
DIRECT ENTRY
Credit passes in at least two 'A' level subjects or equivalent which must include one of Biology, Botany or Zoology and a pass in Chemistry. The point of entry for such candidates is 200 levels. All direct entry students must register at the point of entry and pass all 100 level GST courses before graduation.
COURSE CODES AND NUMBERING FOR PROGRAMMES
COURSE CODE
Biology BIO
Botany BOT
Microbiology MCB
Zoology ZOO