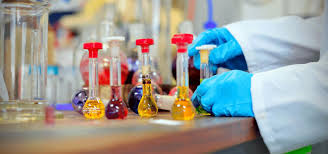 HISTORY OF THE DEPARTMENT OF CHEMISTRY
The Department of Chemistry at University of Mkar, was established in 2013 under the Faculty of Science and Education after an approval by the National Universities Commission for the takeoff of Chemistry program.
PROGRAMS OFFERED (UNDERGRADUATES & POSTGRADUATES)
Undergraduate Program: BSc in Chemistry.
Postgraduate Program: MSc. in Chemistry (With options in Environmental Chemistry & Pollution Control, Physical Chemistry, Industrial Chemistry, Analytical Chemistry, Organic Chemistry, Inorganic Chemistry).
REQUIREMENTS FOR ADMISSION
Undergraduate Program: BSc in Chemistry:
A. Unified Tertiary Matriculation Examination (UTME)
For a candidate to gain admission into University of Mkar for a degree program, as with any Nigerian university, he/she must have passed a minimum of five credits (O' Level) in relevant subjects including English and Mathematics in Senior Secondary Certificate Examination (SSCE) or its equivalent at not more than two sittings.
B. Direct Entry Admission (DE)
Candidates with two A level passes (graded A-E) at the Advanced Level in one or more relevant subjects of the intended program may undertake the three–year degree program into 200-level. This is in addition to the minimum of five credits O' Level passes in relevant subjects including English Language and Mathematics.
C. Inter-University Transfer
A student from another university or equivalent overseas institution may wish to transfer to University of Mkar under Inter University Transfer arrangement for a variety of reasons. Essentially, these may border on personal challenges or other defensible causes such as security, circumstances of parents or, financial burden in the case of overseas students. Regardless of the circumstances, the following are the guidelines for prospective transfer students on how to apply for inter-school transfer from their university to University of Mkar. There shall be established Senate Committee on Admissions with responsibility for Inter-University Transfers.
Postgraduate Admission Program: MSc. in Chemistry
The criteria for admission into the Masters' Program (M.Sc.) in Chemistry require that all candidates must have five credit passes including Chemistry, English, Mathematics and two other relevant science subjects at 'O' Level.
Academic Master's Degree Program
Academic Masters Programs qualify candidate for higher degrees while professional programs are terminal. Candidates with Bachelor's degree in Chemistry from an approved University must obtain a minimum of Second Class Lower Division with a CGPA of 3.0/5.0 for an academic program. Candidates with at least a third class degree or HND in Chemistry and university PGD with CGPA of 3.0/.5.0 may be considered for admission into Master's degree programs.
PHILOSOPHY, AIMS AND OBJECTIVES
The M.Sc. Degree programs in Chemistry is anchored on an unbiased and systematic training of Chemistry graduate to specialize in the core areas of Chemistry which include: Analytical, Industrial, Organic, Inorganic Chemistry, Physical, Medicinal, Pharmaceutical and Environmental Chemistry, in order to bridge the gap between the taught and applied Chemical science in research and industry.
The curriculum is structured to prepare postgraduates to easily become integrated into the workforce of different sectors ranging from academia, medicine and public health, research institutions, food and dairy industries, breweries, beverage producing industries, water and waste water treatment plants, agriculture and pest control Programs, non-governmental health organizations and many others.
In the M.Sc. Chemistry at University of Mkar, we seek to explore and expand the frontiers of Modern Chemistry. A Master Degree program in Chemistry should foster in the Postgraduate an appreciation of the centrality of chemical sciences to human well-being, as well as its inevitable linkage to, and interactions with, other branches of science. The M.Sc. Chemistry Program is designed to provide a strong academic and skill acquisition (practical) based foundation. It also equips the graduates with the necessary skills to become entrepreneurs.
UNIQUENESS OF THE DEPARTMENT
The Department of Chemistry seeks to create and maintain an excellent academic environment that would promote very high academic standards by adhering very strictly to very high-quality research and teaching. The Department also aims to produce graduates who are critical thinkers and can evolve solutions to the myriad of problems faced in both academia and industries using chemical tools. This can be achieved by putting in place a mentorship scheme where every student is properly guided and tutored to ensure that he/she performs to the best possible. The Department of Chemistry engages the students in high quality research projects that seek to address environmental, pharmaceutical, medical, biological and industrial issues, which can be published in highly ranked international journals.